Food
The Sea Breeze Bistro Bar and Patio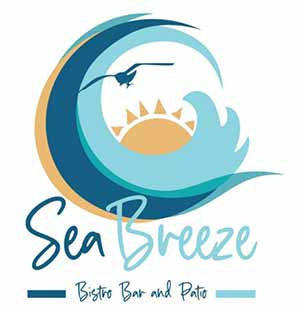 The Sea Breeze Bistro Bar and Patio offers guests a wide selection of food choices, all freshly prepared by our Head Chef, Valdamar Guerreiro and his team. With over 20 years worldwide experience, Chef Valdemar brings a fusion of flavours from across the globe, including, Mexico, Portugal, Argentina, USA, the UK, Japan, India and Central America, Japan and India. Guests can look forward to enjoying international cuisine along with many family favourites.
Opening times:
12.30 pm - 3.00 pm - Lunch
5.00 pm to 9.00 pm - Dinner
Check out our 2022 menu, click on the pic!
(subject to variations)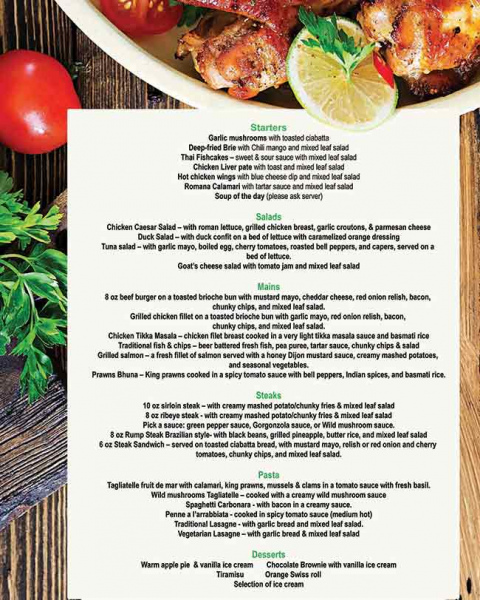 Breakfast
Breakfast is served in the Capel Island Restaurant from 7.30 am to 11 am daily.
We serve a buffet style breakfast, with fresh fruits, juices, tea and coffee, youghurts, cereals, assorted breads and, of course, the Full Irish Breakfast
La Petite Creperie
La Petite Crepierie is located on the patio and is open in the high season and at weekends. It offers customers a selection of high quality food at reasonable prices.
We serve the best crepes and waffles in Youghal, both sweet and savoury. Also on the menu are frappes, lattes, milk shakes, soft drinks and ice creams!
Follow us on Facebook Here and Instagram Here